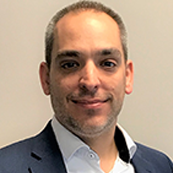 Sandvik Mining and Rock Solutions
Stephen Dobler
stephen.dobler@sandvik.com
Stephen Dobler is a Professional Engineer with more than 15 years of experience in the mining and construction industries with a special focus on quarrying. He possesses a Bachelor of Metallurgical Engineering from McGill University.
With his background in process engineering and a demonstrated ability to leverage team members' competencies to achieve project and business goals, he has moved through progressively more senior roles since joining Sandvik in 2007. He is currently Product & Lifecycle Manager for Stationary Crushing, Screening, Breakers & Systems for Canada. His prior roles include project coordinator and product specialist, branch manager, and business line manager for crushing & screening, all within the North America sales area.
Stephen is an industry expert in crushing and screening equipment, processes and plant design. He has led numerous complex turn-key crushing plant installations. Stephen focuses on finding innovative solutions and delivering value to both his internal and external customers.
Stephen and his family live in Montreal, Quebec.
Back to Speakers