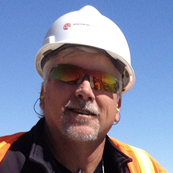 Dyno Nobel
Mike Kotraba
mike.kotraba@am.dynonobel.com
With a Master's degree in Economic Geology from the University of Nevada-Reno and over 30 years of progressive management experience in technical and operational roles, Mike Kotraba brings a long list of accomplishments to the table. Past positions and accomplishments include:
- General Manager/Mill Manager, Operations Manager, and Mine Manager at Grupo Mexico's
Asarco Ray Mine (surface copper operation).
- Operations Manager, U.S. Gold Operation
- Quarry Manager, U.S. Limestone Operation
- General Manager, U.S. Silica Mining Operation
- Operations Superintendent/Mill Manager, U.S. Phosphate Mining Operation
- Production Superintendent, U.S. Gold/Silver Mining Operation
As Project Manager for Dyno Drill to Mill efforts, Mike brings a high level of competence and understanding across the entire Drill to Mill value chain and is responsible for coordinating Dyno Nobel efforts as well as collaborating with the numerous stakeholders involved in any Drill to Mill project.
Back to Speakers